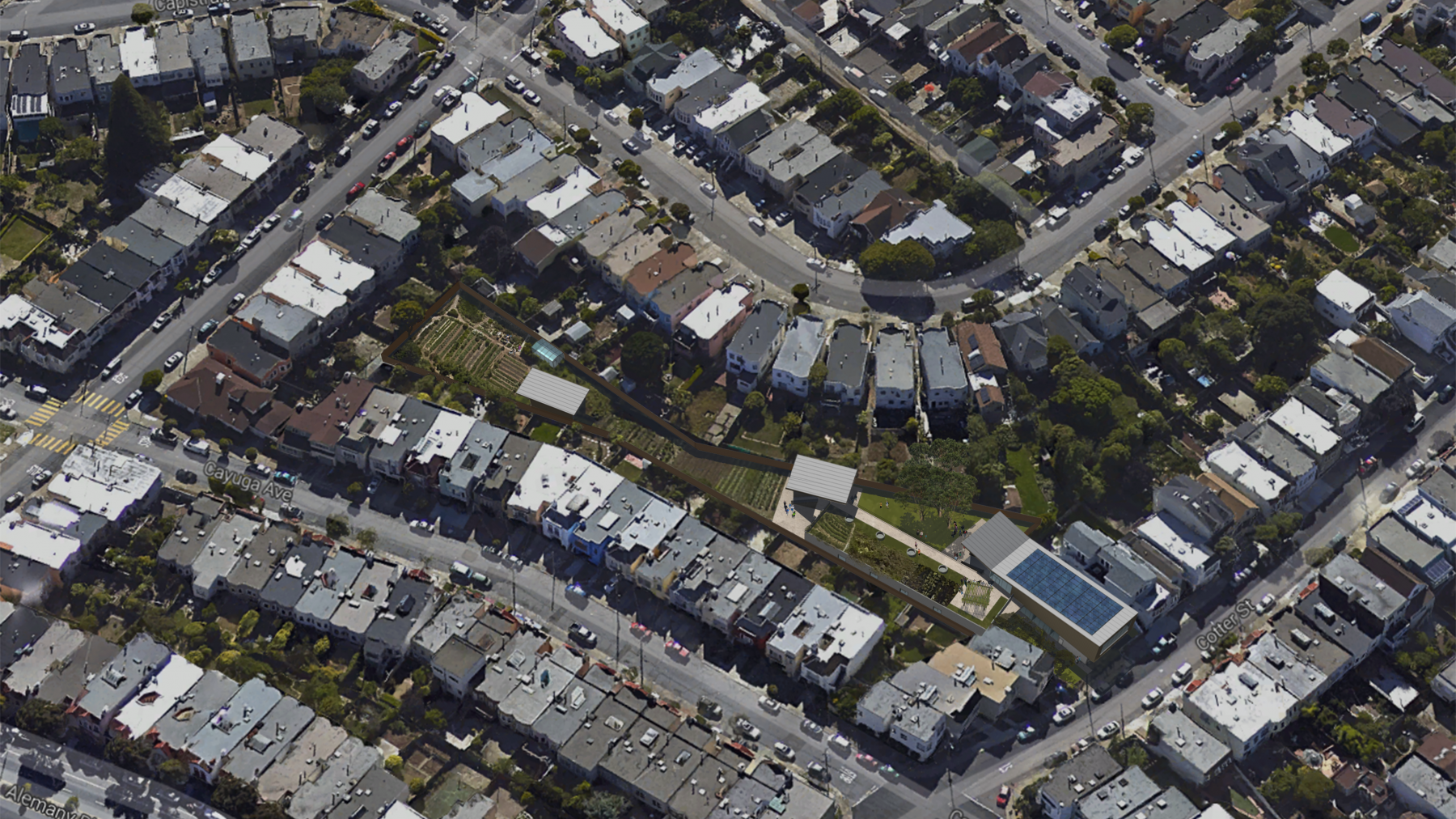 Golden Bridges School
Golden Bridges School began in 2012 when three experienced Waldorf-trained educators recognized the need to create an innovative new school, accessible to families of all income levels. Their vision encompassed a school which focuses on an education steeped in visual arts, movement, speech, self-expression, and group work – celebrating the imagination of the child. A school where a connection to the natural world is at the foundation of each child's school experience, and a significant part of the education is conducted outdoors. A school where teachers are allowed freedom to develop curriculum and shape the pedagogy, based on the needs of the children who enter the class.
Sited in San Francisco's Mission Terrace neighborhood, in a green oasis beyond the backyards of surrounding residences, the new campus for Golden Bridges School provides a unique environment to support and celebrate these goals.
Highlights
Indoor/Outdoor Connections: Embracing the potential to integrate the unique quality of a garden environment, the campus is conceived of as a series of spaces that encourage the use of the site's rich outdoor learning environment. A balance of open spaces, courtyards, gardens, an orchard, and an expansive green roof create a not only a backdrop, but a foreground for learning.
Shared, Flexible Spaces: Going beyond the traditional school model with private classroom and offices, the school is comprised of a series of teaching spaces and an open administrator space, to cultivate a shared sense of ownership amongst the faculty and students.
Community Integration: While the new campus will serve as a home base, the school learning environment stretches beyond it's site, reaching out into the city. At the same time, the school provides a resource for the surrounding neighborhoods- offering the potential for shared use of the multi-purpose room and gardens.
Food and Agriculture: Celebrating the history of the site's urban agricultural use, Golden Bridges School will cultivate a large edible garden complemented by an industrial teaching kitchen and outdoor eating area. The agricultural experience will be integrated into the curriculum and continue to be a day to day occurrence where every student will understand the connection between the landscape and the dinner table and experience the satisfaction of growing one's own food.
Water: The site lies on the headwaters of Islais Creek, offering an opportunity to bring water to the surface of the educational environment. The school will additionally employ innovative technologies to capture, store and re-use water on site – while providing opportunities for students to learn about water in a region preparing for long-term drought conditions.
Energy: The school is designed to incorporate innovative technologies and construction methods with the goal of being a net zero energy campus that passively captures heat and light from the sun. Where roofs are not used for green space, solar arrays will be employed to generate electricity.
Location
San Francisco, CA
Client
Golden Bridges School