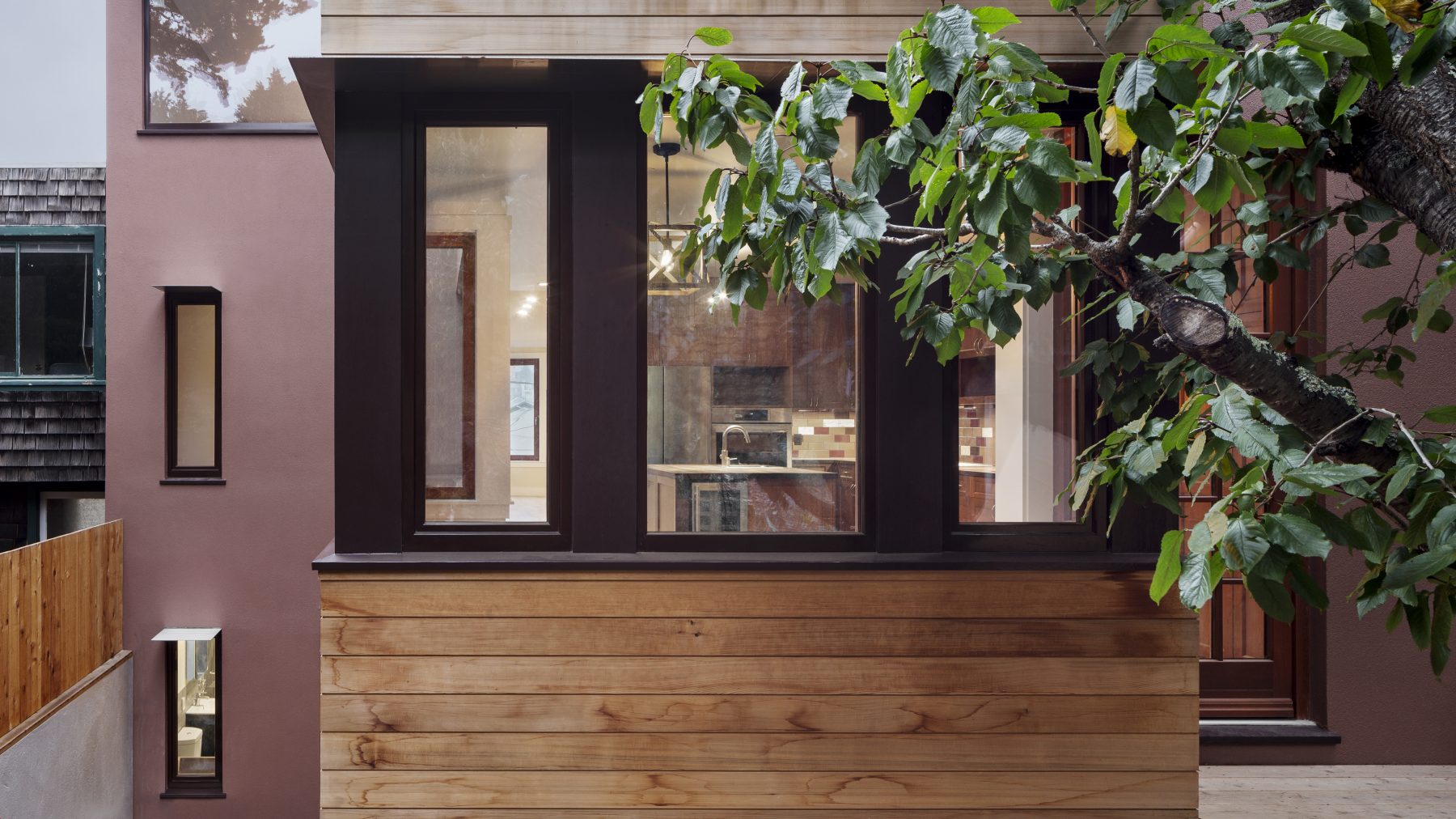 Castro Passive House
Located on a steep slope in San Francisco's Castro neighborhood, this modern, high-performance home is closely knit into the landscape and neighborhood while also setting ambitious goals for energy and resource conservation.
The interior spaces of the existing home have been completely redesigned to offer the best views of the distant landscape while also fostering a close connection to the immediate landscape: the hillside and cherry tree behind the existing home. The clients, with their growing family, also sought a modern design that would grow with them and give them the flexibility to adapt their space. With that in mind, 450 Architects integrated a guest studio unit within the home that can operate independently and a sliding wall which offers the ongoing choice to create an additional bedroom or expand the living room.
Engineers and graduates of MIT, the clients also set the ambitious goal of converting their 50's era tract home into a net-zero home. With the intent to maximize water and energy conservation, design strategies include natural building materials, greywater systems, and photovoltaic solar power to meet and exceed benchmarks set by LEED Platinum, Passive House, and Greenpoint rating systems.
Highlights
Passive House Plus Certified
Leed Platinum Certified
Testimonial
We hired 450 Architects for an extensive renovation and addition, and have been thrilled with every aspect of working with them. David has designed an outstanding home for us that embodies what we wanted and how we live. Furthermore, every time we have a new idea for something we could do in our home, from holding a workshop or offering a space for a new venture, to hosting a children's playgroup, we find that the space can accommodate these new ideas seamlessly and beautifully. We are also very happy and excited about the relationship of our new house to the outside yard space and the city.
450 also has extensive experience with green building practices, and has done LEED certified projects for schools and other buildings. They are helping us design a Passive House certified home with high levels of insulation and a heat recovery ventilation system to ensure fresh clean air while conserving energy, as well as meeting several other goals such as Net Zero energy consumption. They have also supported us in investigating technologies such as composting toilets for our home, and specifying a greywater system for irrigation.
Finally, 450 has worked with our structural engineers to specify additional measures that add only a small premium to construction cost but strengthen the home considerably to reduce possible earthquake damage.
Overall, our experience is that 450 is willing to push the envelope of building design and construction, and they are fearless in exploring new technologies. Most importantly, they are wonderful, warm, and highly professional people to work with.
— Owner
Location
San Francisco, CA