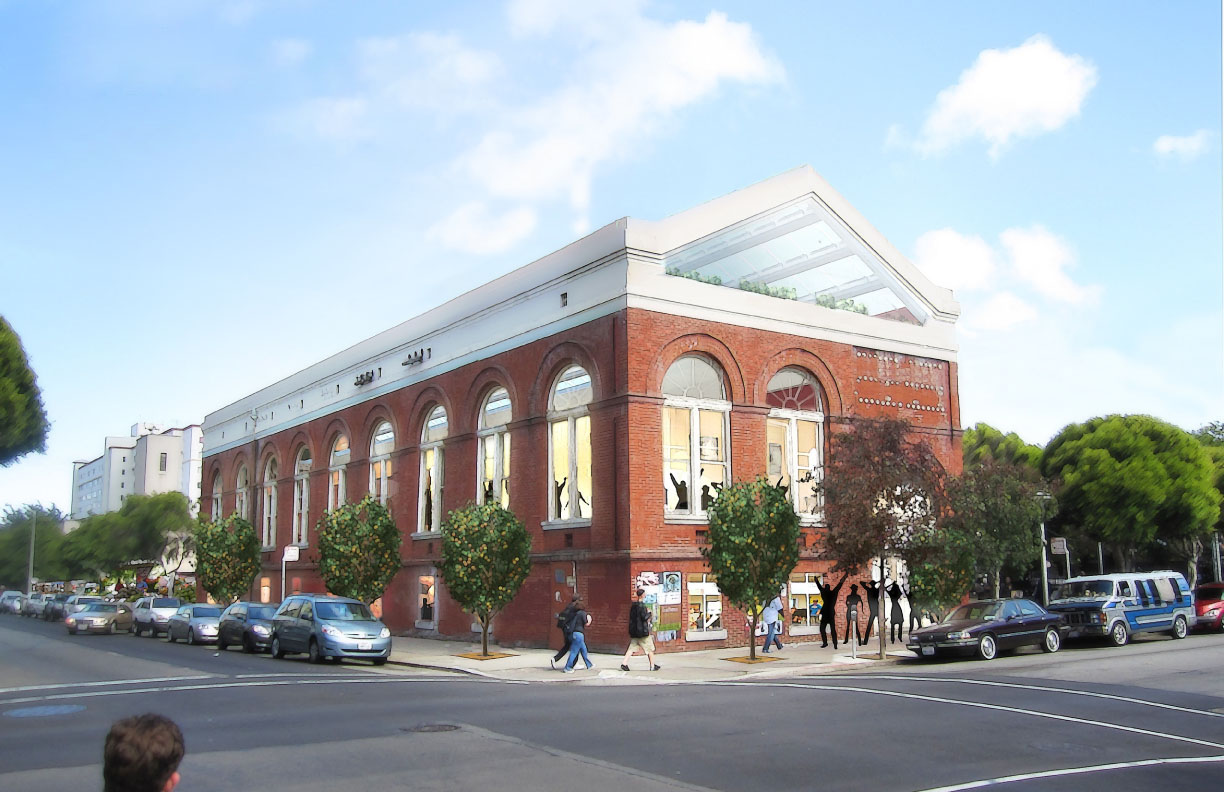 Greenhouse Restaurant
450 architects proposed to convert the long-abandoned MUNI substation in the heart of San Francisco's Fillmore Jazz District into a public gathering place where the community could connect, learn, teach, garden, cook, perform music, work and play. The revitalized site would include music studios, a park, community gardens, a farmers' market, and a unique restaurant with a rooftop greenhouse which would create green jobs, foster healthy eating habits, and empower the local community. This project would promote sustainability and encourage the community to choose healthier food options. It would also help California reach its goal of strengthening the state economy through the creation of green jobs, urban agriculture and organic food consumption, reducing greenhouse gas emissions, and providing on-site renewable energy resources.
Project Collaborators:
Medized – Megan Morris
Cake Walk – David Zapata
Highlights
The main concept of this proposal is community empowerment by way of:
Outreach
Education
Healthy Food
Family
Jobs
Renewable Energy (Solar and Wind)
Community Open Space
Water Conservation
The Greenhouse Restaurant concept satisfies these goals through a rooftop greenhouse, an outdoor community garden, a teaching kitchen, a living classroom, and a farmers market, where youth can spend time after school taking part in green jobs, learning from adults and elders in the community about caring for plants, animals, and the community, preparing healthy food, and sharing with their community. Music studios allow the community to learn, practice, and perform—enlivening the music of the Fillmore Jazz District. An outdoor park would serve as an extension of the restaurant and gardens, where families can safely gather within an enriching open space. This proposal envisions not only a restored historic structure, but a revitalized neighborhood.
The concept is a unique restaurant with an on-site rooftop greenhouse and an adjacent community garden. The menu would feature special plates with seasonal, locally grown, organic or bio-dynamic produce and meats. Next to the restaurant, the community garden beds would be managed by a local gardening collective focused on empowering San Francisco youth by teaching them green jobs, e.g. organic gardening, urban land stewardship, food preparation, and restaurant waiting and management skills.
Location
San Francisco, CA