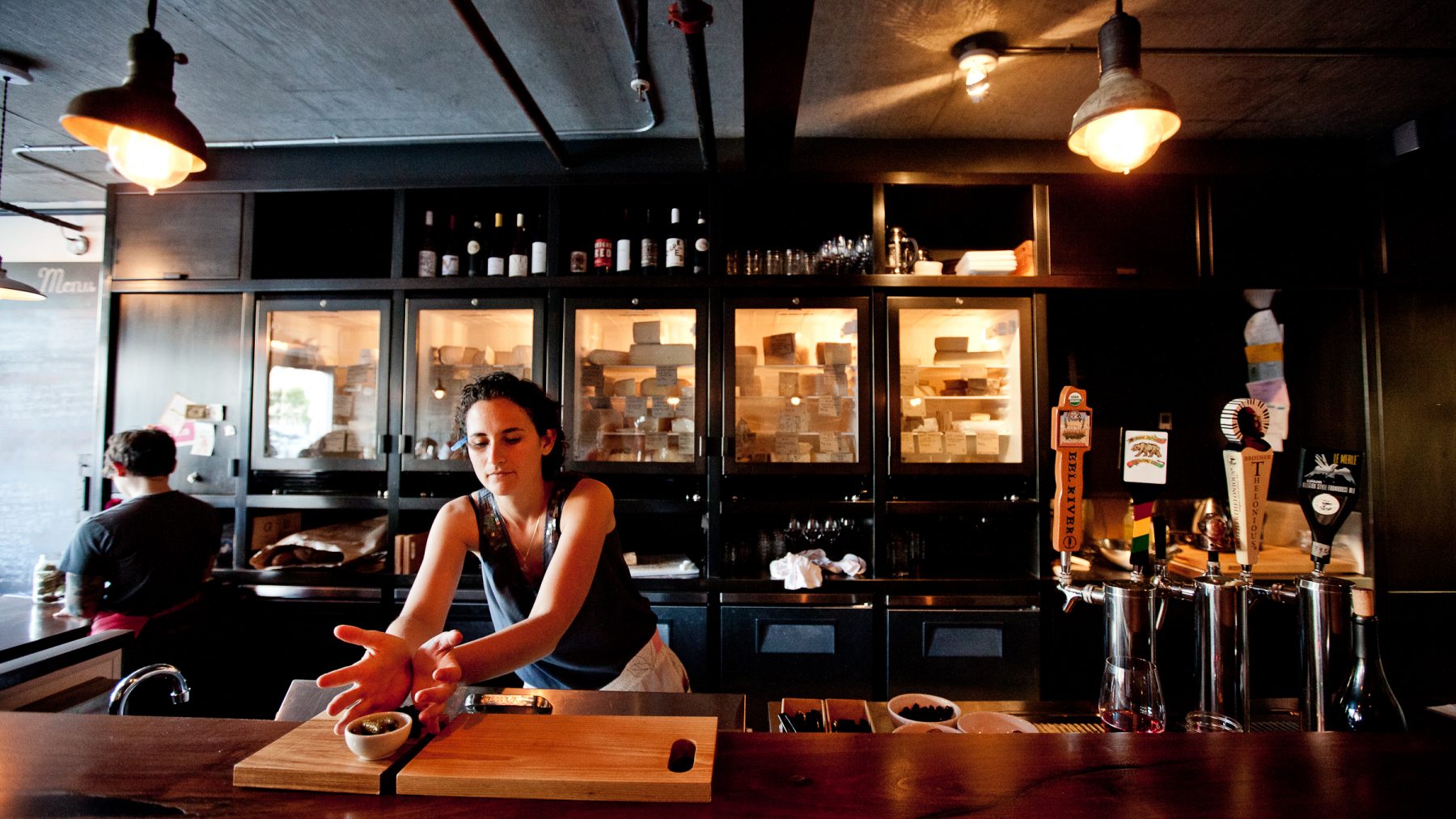 Mission Cheese
Mission Cheese is a small business that serves local artisanal cheeses. The design of the space began with a road trip to multiple Northern California cheese farmsteads. The people, animals, and buildings provided the foundation for the design of the Mission Cheese space. The goal of Mission Cheese is to ignite enthusiasm around local farmstead cheese and those involved in its production. Equipped with San Francisco's best assortment of American artisan cheese we designed a space to connect communities to the source of their food and the farmers who make it. With an extremely small budget and space, we focused on three key details: The Cheese Lockers, The Patrons Bar, and The Mural Wall.
Highlights
The Cheese Lockers: A wall of dark steel both frames and highlights the cheese within, creating a cheese lantern. To further complete this wall, we developed custom facing for off-the-shelf refrigeration units to match the wall. The metal cabinets by Stingray Builders were finished by a local artist, Jeff Burwell.
The Patron's Bar: Respect for the maturation process and aging is something that cheese lovers understand and connect with. We sourced materials that are long lasting and will/have aged with dignity. The bar is of a solid piece of Claro Walnut that was a fallen street tree and left with a natural edge, with a shape akin to a whale. The rich color and soft edges welcome the patron and create a comfortable place to eat and enjoy a deeper connection to cheese. With a punch of bright lime-yellow Heath Ceramics tiles below, the bar is emphasized as the main island within the entire space. Barn wood wainscoting from Heritage Salvage wraps inner surface of the surrounding walls to create an ambiance of aging, along with Josh Duthie's custom bar stools and antique lighting from Big Daddy Antiques that hang over the bar.
The Mural: Drawn by the designer on the opening nights, the creation became a performance in the space. The scene of sheep in a field harkens back to the cheese's origin: the grasses eaten by the sheep, goats and cows. The names written into the wool refer to those who helped create the space.
Location
San Francisco, CA