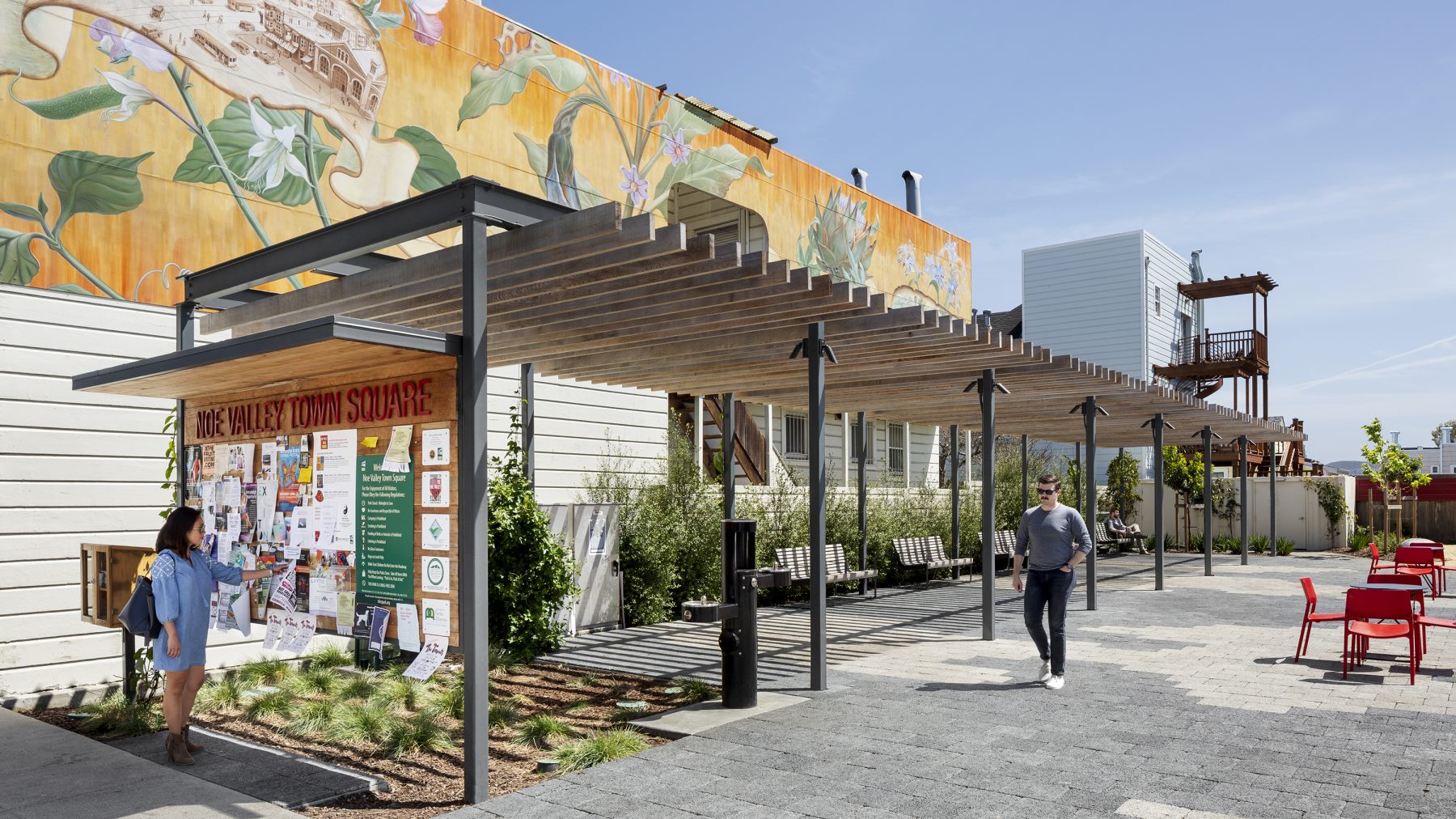 Noe Valley Town Square
450 Architects worked with CMG Landscape as the architects for the new Noe Valley Town Square on 24th Street in Noe Valley. Richard Parker, as a resident in Noe Valley, attended several of the early community outreach meetings. Through this engagement with CMG, 450 Architects was asked to join the team as the architect to contribute to the design.
This project was managed by SF Rec and Parks Department and they guided the design team throughout the entire process. The square is a great example of how the city of San Francisco is using the public open space funds for the betterment of the city for all San Francisco residents and visitors alike.
The space was designed to accommodate a large ongoing farmers' market every weekend, children's playground, shade trellis, stage trellis, community message board, landscaping improvements, benches, lighting, and a large flexible central open space.
The trellises help frame views in the space of both the well-loved existing murals on the adjacent buildings and out to the neighborhood. The park is designed to be very flexible as it is used for many different activities on any given day and throughout the week. The lower trellis along the side provides a quiet and shady space over a series of benches and backs up to a wall of planting including vines that will in time grow up and across the trellis. At the sidewalk, this trellis starts with a large community board for residents and organizations to post information about events and opportunities going on in the community. The south end of the main plaza is framed by a larger stage trellis that spatially anchors the Square. It sits over a long bench for visitors to enjoy anytime or it can serve as the focal point for more organized events when needed. Also, tucked behind and next to this trellis is a nature area and small playground with two owl sculptures that were provided with support from the Arts Commission and completed by Wowhaus. Another big feature of this new square is the majority of the project site replaced solid asphalt paving with either permeable pavers or new planting areas.
The long shade trellis at the west side of the plaza was designed to have the simplest and most minimal steel structure, which becomes secondary behind a suspended ceiling of wood that caps the space. Using only fasteners attached at the backside, a regular rhythm of rough-sawn cedar boards, that were left unfinished to weather and patina over time, create a ceiling effect underneath. At the larger stage trellis, the steel is kept minimal and tapers at the edges to maintain a light feel. Again, rough sawn cedar is suspended below to cover the space over the custom concrete and wood bench.
Photography – Garry Belinsky
Location
San Francisco, CA
Client
San Francisco Recreation and Parks Department