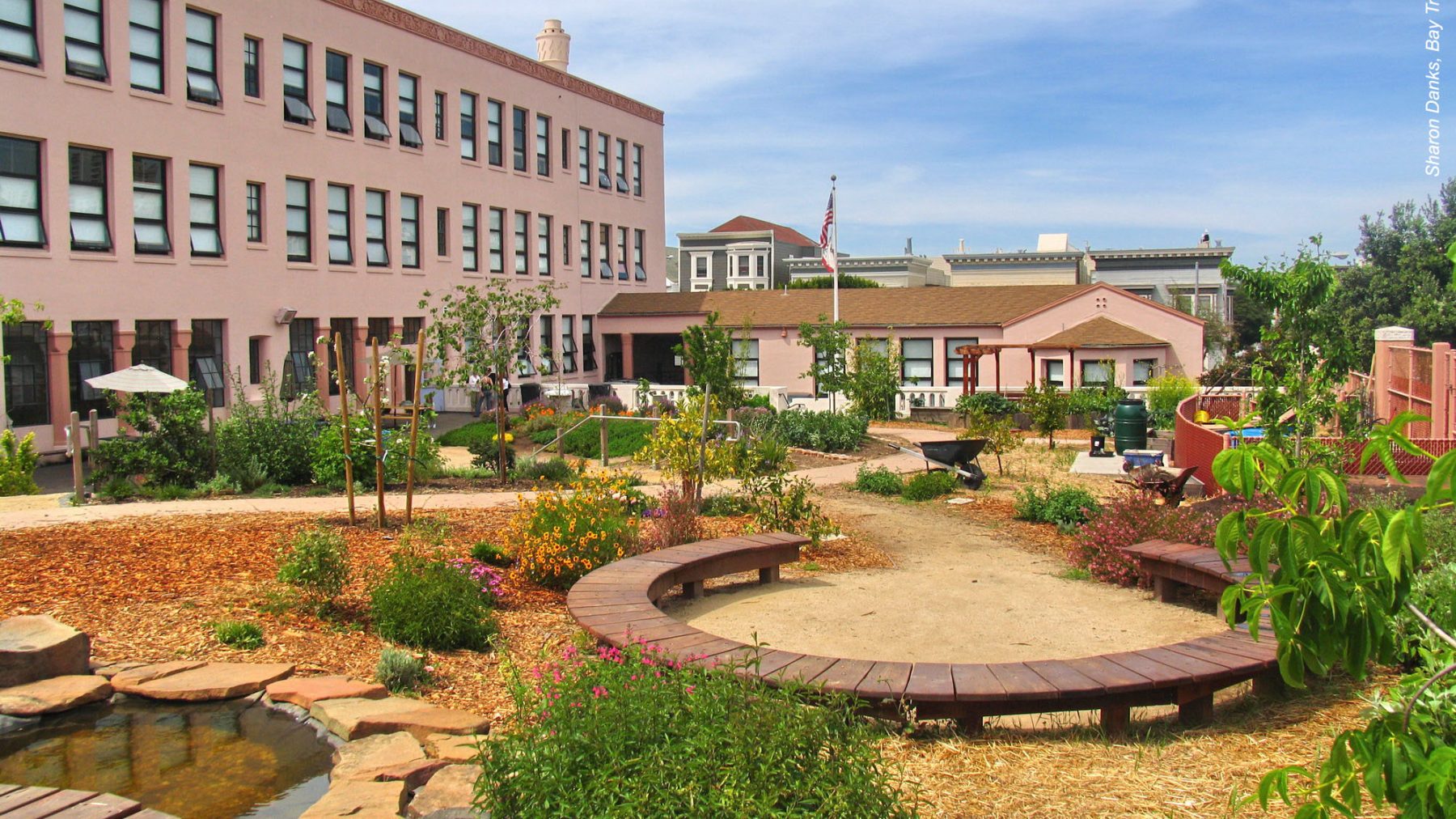 Sherman Elementary School
This modernization project for the Sherman Elementary School provided full accessibility upgrades to a 1940's concrete building on a sloped site. Restrooms and path of travel upgrades were designed and detailed in sympathy with the existing Romanesque architecture. As an outgrowth of the accessibility needs of the terraced play areas and access from the inside, the green schoolyard component of the project transformed the asphalt yard into a gently sloping hill, amphitheater, outdoor classroom, waterfall and pond. This project celebrated universal design as a key component in design development. Developed through a collaborative process with 450 architects, environmental planner Sharon Danks, and landscape architect Jeff Miller, parents, teachers, staff, and the greater school community, the school yard allows nature play, gardening, and other creative outdoor activities. One of the first SFUSD green schoolyards, this project's success fostered the pursuit of green schoolyards throughout the District.
Highlights
Modernization Highlights:
Reconfigured campus in order to provide more cohesive educational adjacencies
ADA upgrades to stairs, ramps, elevator, stage access, door hardware, drinking fountains, restrooms and schoolyards.
Life Safety upgrades included the main panel, alarm and sprinkler systems.
Structural upgrades
Complex scheduling with five-phase interim housing and construction project completed on schedule
Green Schoolyard Project Highlights:
Engaged school community in helping to build the new schoolyard—spreading mulch, planting vegetation, and pressing leaves into freshly poured concrete to make attractive prints
Engagement of school with site – curriculum now includes lessons in the green schoolyard focusing on subjects such as ecology, biology, geology, and caring for the yard's plants and animals
Improved test scores at Sherman Elementary School since project completed
Testimonial
We are deeply grateful for your creative vision, great listening skills, help and support. You led us on a path to collectively and collaboratively dream about what our school community would like to see in the 'greening of our yards.' And now our school is beautifully transformed!
— Phyllis Matsuno
Size
53,106 sq ft, 1.7 acres
Location
San Francisco, CA
Client
San Francisco Unified School District