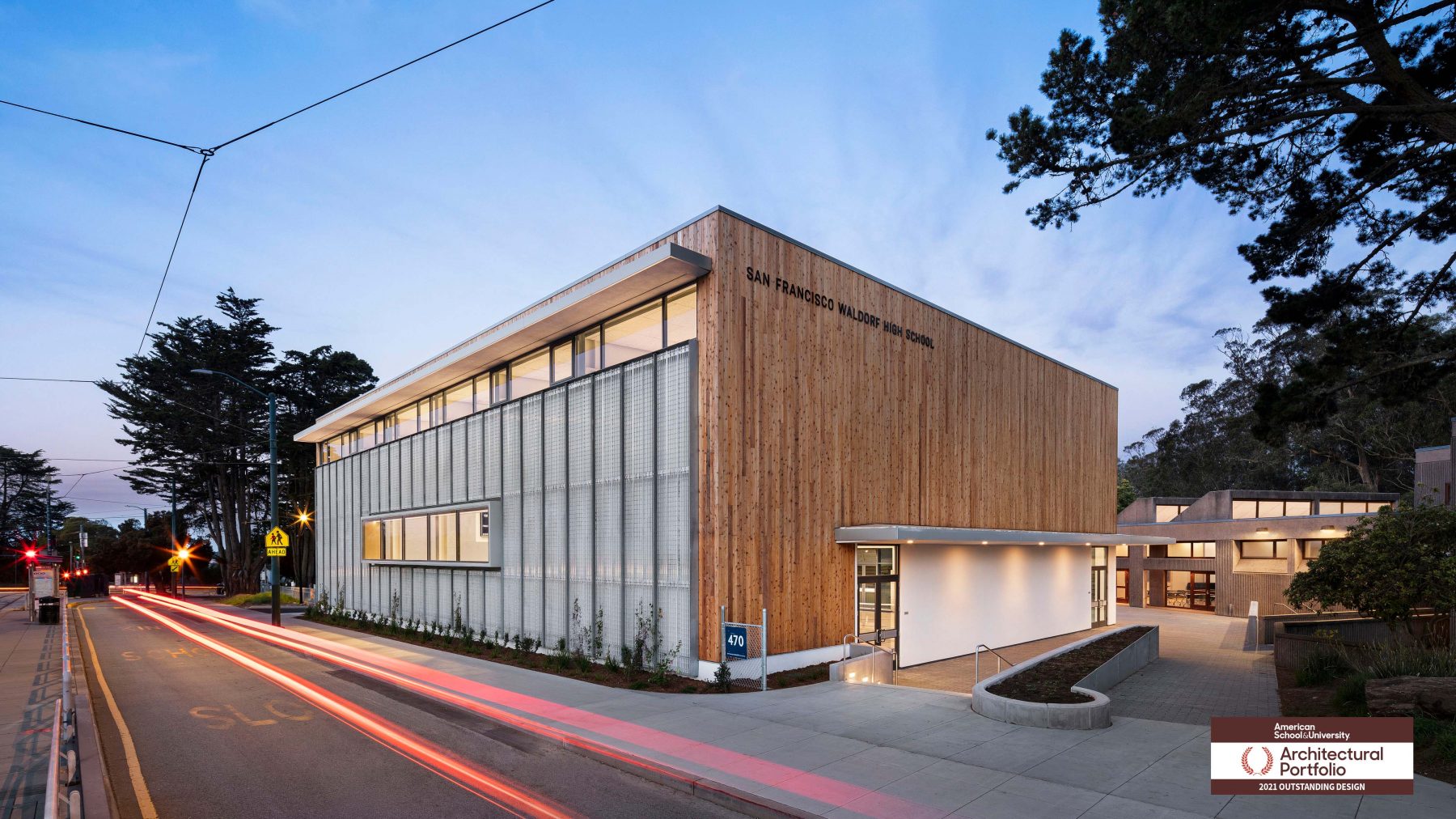 San Francisco Waldorf School – David Bushnell Center for Athletics and Community
The 9,282 square-foot David Bushnell Center for Athletics & Community provides a long-held aspiration for a multipurpose space for the San Francisco Waldorf School and will be a hub for athletics, performances, lectures, and community gatherings. The new Center is sited to create a sheltered courtyard between the existing and new facility providing a variety of spaces supporting outdoor learning, social gatherings, and casual connections.
The new facility includes a 358-seat gymnasium that will host the school's robust athletic program and double as a flexible space for school and community performances, a classroom, and a commercial kitchen for school and catered events. The space can also accommodate up to 970 people for the school's popular Winter Faire, Spring Night and school graduations.
The building was conceived as a simple steel structure clad in cedar siding to reinterpret the texture of the existing concrete high school building.  The street façade features a growing wall of native pollinator vines creating a new dynamic identity for the campus as well as a life-long metaphor for learning, nature and growth.
The plantings, selected by Habitat Horticulture, support the Waldorf pedagogy and will provide materials for basket weaving, dyes, culinary arts, and reflect the school's commitment to climate resiliency.
The Bushnell Center is the second phase of a multiphase project for the San Francisco Waldorf School. Designed to be solar photovoltaic ready, the school will have the ability to provide power for the entire campus and achieve net zero energy goals.
The first phase, involved the adaptive reuse of an existing concrete telephone call center into the City's first LEED Gold Certified High School.
Project Team:
civil | Coffman Engineers
mep | EDesignC
structural | Strandberg Engineering
landscape | Hyphae Design LAB
growing wall | Habitat Horticulture
geotech | Rollo & Ridley
fire protection | ESH Consultants
theater | Auerbach Pollock Friedlander
specifications | JPM International
general contractor | Oliver & Company
Location
San Francisco, CA
Client
San Francisco Waldorf High School